Home > From the Brothers Grimm >

The Frog King
Preview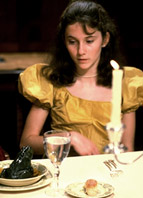 An upper-class, late 19th-century dining room where a wealthy industrialist presides as "king" sets the stage for this version of "The Frog King," the classic tale about a princess's promise to a frog. The frog invites himself to a formal family dinner, horrifying the princess by jumping from soupbowl to soupbowl.
(27 minutes, ages 5-adult)
"It's particularly satisfying to see a formal Victorian dinner party interrupted during the soup course by the arrival of a real live frog. After hopping under the table, the diminutive latecomer is gently retrieved by a butler, who "seats" him next to the paiunfully embarrassed young mistress of the house. From his perch on a stack of velvet cushions the frog proceeds to mingle in a delightfully froglike way, jumping into soupbowls and overturning wine glasses...little kids in particular may feel keen gratification when he splashes merrily around the table without suffering unpleasant consequences. Grown-ups may feel more amused by the aplomb of Ernest Graves in the role of the host and by the implications of the heroine's discomfort, which wittily evokes a good deal of the social and erotic panic associated with adolescence."
-- Gary Arnold, The Washington Post February 15, 1981
CINE Golden Eagle winner
American Film Festival -- Blue ribbon
Also included on the same video: "The Making of The Frog King."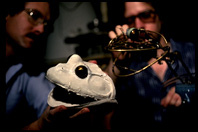 This documentary about the basics of filmmaking and film acting shows how film is edited, how simple models are used to create illusions, and how time is manipulated and scenes are filmed out of order. It shows that filmmaking is something you can do "at home" without hug budgets, elaborate models, and exotic scenery. It also shows the special problems of acting in film for both humans and frogs -- an experience that (for the humans at least) is very different from acting in the theater.

"The Making of The Frog King" is narrated by Tom Davenport and Ann Clark, the charming fourteen year old actress of The Frog King. It is a "must" for any introductory film course. This informative segment explains how the production crew overcame such problems as how to construct a talking frog, how to get the frog to jump into the soupbowls, and how to relax the many frogs who played the part of the frog -- by having them spend nights in the refrigerator.
The "talking frog" puppet used in The Frog King was designed by Tom and Sue Culnan of Totally Ours Productions.