Home > From the Brothers Grimm >

Ashpet: An American Cinderella
Preview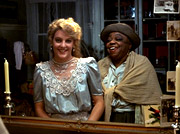 Set in the rural South in the early years of World War II, Ashpet is a humorously touching version of Cinderella, the world's most popular folktale. A resourceful and beautiful girl (Ashpet) is the lackey in the messy parvenu household of her weak stepmother and slothful, mean stepsisters. On the day of the Victory Dance, Ashpet is sent to the conjure-woman "Dark Sally" to fetch "love sachets" for her boy-crazy stepsisters. Sally reveals the secrets of Ashpet's heritage -- "your real name is Lily" -- and arranges for the newly confident girl to "sparkle like a lightening bug" at the dance. Eventually, the step-family gets its comeuppance and the independent Ashpet gets her man and the house, too.
Ashpet provides an entertaining way for children to explore proper values, self-esteem, and sibling rivalry.

(45 minute., ages 5-adult)


"The creator of Ashpet: An American Cinderella assumes the original mindset of the author of fairy tales, which were often created as social commentaries or criticisms and presented to their audiences in narrative form....Viewers willing to take a new look at a familiar tale have a treat in store. Ashpet is true to its literary form but is placed in a new setting. It is also a good story, a social commentary,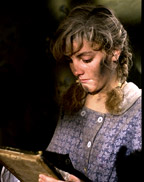 and a pleasurable trip into nostalgia. Highly recommended."
– Pat Craig, Video Rating Guide for Libraries, Summer, 1990
"Last summer, I took a class of school media specialists to a presentation by Tom Davenport. Davenport screened his films, Soldier Jack and Born for Hard Luck (from the American Traditional Culture Series), and in the course of the discussion afterward, remarked that his dramatic works were not children's films, but rather were marketed to children's institutions. The students had less of a problem understanding the distinction than I, for I argued that those non-fiction works were -- absolutely, positively -- children's films. That if they looked like ducks, walked like ducks and quacked like ducks, they were ducks. After seeing Ashpet, I am now ready to change my position.
Ashpet is not a children's film per se.
Davenport, the Virginia filmmaker, literary anthropologist and moral godfather to a decade of schoolchildren, has delivered an elemental tale that compels the viewer -- child or adult -- to take it seriously. The first indication of this came about 10 minutes into viewing when I wasn't sure what was going to happen next, or even if the story would follow the well-known plot of the traditional Cinderella....(He) takes the Cinderella characters as a given, but the treatment is strictly 1940s American, and the script, purely new southern folklore...Ashpet offers some offbeat subplots and more mature lessons than either the Brothers Grimm or the Anglo-American version of the tale. One theme is that love, both familial and romantic, should be reserved for the deserving....

This version of the story also corrects something that bothered me even in childhood: That is, If the Prince is so right for Cinderella, how come the only way he can recognize her is by her shoe size? ...In Davenport's version, the prince-substitute, William...at least has the sense not to fall for the old switcheroo....

With this work, another addition to Davenport's string of newday folklore and fairytales, and his clear intention to add more, he himself becomes sort of an American Mr. Grimm. This, to me, makes perfect sense as a natural progression in communication systems -- from oral, to written, to printed and now filmed versions of stories that vary only slightly from culture to culture, carry survival lessons from old to young members and that will likely be carried on as long as humanity lasts."
– Gaile Munde, 1989
"There are a lot of mysteries in life, but certainly one of the greatest is why every video store and library in American doesn't have copies of Tom Davenport's From the Brothers Grimm fairy tale series. Ashpet, the ninth in a series that has won more awards than Grandma Moses has children, is a live-action rural retelling of the Cinderella story....Ashpet is a wonderful change of pace from the steady drizzle of insipid cartoon remakes of Cinderella. A top-notch production in all respects, (it) has the additional benefit of teaching kids an important lesson: just as it is the clever soul who is well-versed in the diverse ways of removing a skin from a cat, it is the well-rounded child who understands that there are many different ways to tell a story. Highly recommended." Editor's Choice.
– Randy Pitman, Publisher and Editor,Video Librarian, May 1991 [Mr. Pitman may be contacted at Video Librarian, 8705 Honeycomb Ct. NW, Seabeck, WA 98380 (800) 692-2270, email: vidlib@videolibrarian.com]
Partial Listing of Film Festival Awards for Ashpet
Oakland International Educational Film Festival -- First Place Golden Apple
Houston International Film Festival -- First Place Gold Award
CINE -- Golden Eagle Award
Baltimore International Film Festival -- Third Place Award
Philadelphia International Film Festival -- First Place Gold Award
Sinking Creek Film Celebration -- Honorable Mention
Columbus International Film Festival -- First Place Chris Award
New England Childrens' Film Video Festival -- Selected Participant
New York Exposition of Short Films & Videos -- Jurors Award
AFI American Video Conference Awards -- First Place, Children's Instruction
Louisville Film & Video Festival -- Select Screening Participant
American Film Festival -- Finalist
International Film Festival of New York -- Bronze Medal
American Library Association -- 1991 Selected Film for Young Adults
North Carolina International Film Festival -- Third Place Award
Three Rivers Arts Festival -- Juried Visual Arts Exhibition Selection
Birmingham International Film Festival -- Finalist
Washington, DC "Rosebud" Awards -- First Place, Best Feature Film
Louise Anderson, the actress who plays "Dark Sally" is featured in a documentary called When My Work Is Over. See the When My Work Is Over page.
The Newsletter ,Volume 3 Number 1, features an article on Cinderella by Jane Yolen. See the Newsletter page.
Links to other websites:
The Sur La Lune Fairytale Pages