Home > Documentaries >

A Singing Stream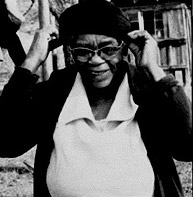 The story of a remarkable African American family from the rural South. With interviews and stories, and scenes from daily life, reunions, gospel concerts, and church services, the film traces the history of the Landis family of Granville County, North Carolina, over the lifetime of its oldest surviving member, 86-year-old Mrs. Bertha M. Landis. Particularly featured are performances by her sons' gospel quartet The Golden Echoes of such songs as "Troubles of the World," "Going Up to Meet Him," and "The Old Rugged Cross," and family and church performances of "Mighty Close to Heaven," "Come and Let's Go to that Land," and "There's Union up in Heaven."

Directed by Tom Davenport and produced by Davenport Films and the Curriculum in Folklore at UNC, Chapel Hill with Daniel Patterson and Allen Tullos.

(57 minutes, color)

"I had a large family--eight boys and three girls. As the boys grew up, I saw that they had a talent for singing. I began to realize that they had a singing stream coming from both sides of the family. I wanted them to grow up and be involved in something that was worthwhile--and something that would bring them joy and happiness as they grew up in years. So I began to teach them."
—Mrs. Bertha M. Landis
Reviews: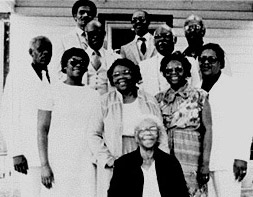 "There is so much song, laughter, love and genial warmth in "A Singing Stream: A Black Family Chronicle" that your TV set could very easily overheat...Director Tom Davenport has managed to capture the Landises -- at a family reunion, performing gospel concerts, going about the business of their daily lives -- without intruding or making them self-conscious. That allows him to reflect not only on the strength of this particular family, but to use it as a micocosm reflecting the slow process of social and cultural change in this region...

[The Landis's singing]...is always joyful, rich and nourishing, and it's not hard to see how positive values have flowed through four generations and, one suspects, more to come."
– Richard Harrington, The Washington Post
"A wonderfully conceived, heart-warming and compelling documentary."
–The National Black Programming Consortium
Awards
San Francisco International Film Festival -- Honorable Mention
National Educational Film Festival, Oakland CA -- Bronze Apple
UCLA Film/Folklore Festival, Los Angeles CA -- First Prize
Mint Museum Independent Filmmakers Film Festival, NC -- Finals
CINE -- Golden Eagle
Kenyon Film Festival, OH -- Best Documentary
Black Maria Film Festival, NJ -- Directors Choice
National Black Programming Consortium, CA -- Second Place
Chicago International Film Festival -- Bronze Hugo
For information on the Landis family, this musical tradition, and the making of the film, see:

Allen Tullos, Daniel W. Patterson, and Tom Davenport, "A Singing Stream: A Black Family Chronicle--Background and Commentary," special issue of North Carolina Folklore Journal, 36 (Winter-Spring, 1989), 62 pp. (may be ordered under "Study Guides" on the Ordering Information page.

Beverly Patterson, Study Guide for A Singing Stream (The North Carolina Folklore Society will provide single free copies on request.)

Daniel W. Patterson, "`Going Up to Meet Him': Songs and Ceremonies of a Black Family's Ascent," in Ruel W. Tyson, Jr., James L. Peacock, and Daniel W. Patterson, Diversities of Gifts: Field Studies in Southern Religion (Urbana: University of Illinois Press, 1988), pp. 91-102.