by Daniel W. Patterson and Allen E. Tullos
Copyright 1976 by Daniel W. Patterson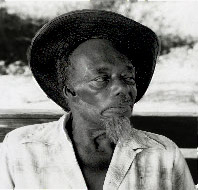 "Born for Hard Luck" is a film portrait of the black secular folk musician Arthur Jackson. But a 30-minute film can go little beyond a snapshot in capturing the full character of a man. It looks at him from one perspective, sees him in only one period of time. The present film is in fact largely limited to showing Jackson in his role as the brilliant harmonica player and medicine-show performer "Peg Leg Sam." These accompanying notes provide background information about that role, point up significant features of his songs, jokes and stories, give information about ways the filming affected his performances, hint at something of the man behind the showman's mask, sketch his relation to the culture from which he comes and list sources for further information about Mr. Jackson.
HIS LIFE. Arthur Jackson was born on a farm near Jonesville, S.C., in 1911, and grew up sharing a one-room log cabin with his parents and 5 brothers and sisters. His father worked him so hard as a child that he was glad when a rainy day came. "I went to a school when it rained, " he says. "Outside of that I always had something to do on the farm....If I'd a-stayed at home I wouldn't have known a thing, wouldn't have been able to do anything but plow a mule. Nothing from nothing leaves nothing. I did a lot of work in vain--sixteen hours in June, July, August, working from sun to sun. If you plow a mule all day and into the night, you feel just as tired when you get up as when you lay down. Plow all night too, dreaming." At the age of 10 Jackson started running away from home. "Arthur would be out in the field plowing a mule, working in the hot sun," a neighbor recalls. "All of a sudden that mule's ears would prick up in the air, " and Arthur would stop to listen. Soon you would hear a freight train several miles away, coming in our direction. That'd be the end of his plowing. He'd leave the mule standing in the row and run off to catch that train. You might not see him again for months." He hoboed into Canada and New England in the summers and toward California and Florida when the weather turned cold, doing odd jobs--digging potatoes in Maine, cutting cane in Florida, preaching in Maryland, working on a boat in the Caribbean, serving time in a reform school and on a Georgia prison farm, and intermittently settling down for brief flings at marriage. In 1930, hungry and half asleep from days of hoboing, he lost a leg when he fell from a freight train near Raleigh, N.C. "That's when I started playing the harp good, "he says,"--making something of it."
HIS DEVELOPMENT AS A PERFORMER. Jackson first began to play the harmonica as a child. "My daddy bought me a 10-cent harp once for Christmas," he says, "and I heard people playing that song they call 'Reuben.' I wanted to play that song, bad. I got back by the chimney corner where the sun would hit me and practiced up." He picked up much from local musicians, and more from an harmonica player named Elmon "Keg-Shorty" Bell in Atlanta. In 1922 he first saw the Spartanburg guitar player "Pink" Anderson, who was playing in Dr. Frank "Smiley" Kerr's medicine show. ("That's been 50-odd years ago. I said, 'Lord, I wish I was that rascal!' He was clowning, you know.") Jackson later picked up the medicine-show routine from Anderson, learning first how to "crossfire" lines as a straight man, then taking over the comic's role in his own right. After his accident he sometimes "busked" for small change on the street corners, but medicine shows paid better. For many years he performed in a series of troups run by Dr. Kerr, Dr. Thompson, "old Jeffries" (who weaseled out of paying Peg Leg Sam), and Dr. Silas Green. For 25 of these years he also returned annually to Rocky Mount, N.C., to work and play music for 4 months for Fenner's Tobacco Warehouse. Fenner liked Peg's playing and sponsored him during these years on a 15-minute radio program each morning while the tobacco market was in session, and toward the end of this period even on local television. Peg's last regular medicine-show performances were with "Chief Thundercloud" (Leo Kahdot, a Potawatomie from Oklahoma, who began his long career playing piano and trumpet in vaudeville). Jackson retired from the road after Kahdot's death in 1973. Two blues collectors--Bruce Bastin (of Flyright Records) and Pete Lowry (of Trix Records)-- had met Peg Leg Sam while visiting "Baby" Tate in 1970. They began to issue recordings of his music and introduced him to the college and festival circuit, first at UNC and Duke University, then at Philadelphia, Wolftrap, Boston, and Washington, at the National Folk Life Festival. Although Jackson has suffered a stroke since making the present film, he continues to make occasional professional appearances.
THE MEDICINE SHOW. When Jackson first began to work in medicine shows, they were a popular form of entertainment in the small-town South. A "doctor" with a supply of wonder soap, snake-oil liniment, and tonics would hire musicians and comics (generally 5 to 10 of them) to drum up crowds at tobacco auctions and county fairs. Sometimes they even "dragged the streets"--collected a crowd with their playing-- and led the people to the show, where music, comic routines, and dancing alternated with the sales pitch. By the late 1950s, when Peg and Chief Thundercloud began to travel regularly together, medicine shows were fast disappearing from the scene, and theirs was much shrunk from those of earlier days. The Chief himself had once run a troup composed of 3 or 4 head comedians, 2 straight men, 2 dancers, 2 blues singers, and a band with 6 or 7 musicians. But the chief and Peg now traveled with at the most only one other man, a guitarist like Pink Anderson. Only the two of them were performing when a sound recording and a videotape were made of their show in Pittsboro, N.C., in 1972.
Knowing the schedule of the fairs, Peg and the Chief traveled from one to the next in a station wagon loaded with products for sale. At each new town they routinely got the permission of the police chief and fair superintendent and set up at a strategic location within the fairgrounds, keeping a discreet distance from the midway., but close to the path leading to it from the entrance. Their stage--a wooden platform little larger than a card table--was attached to the rear of the station wagon. A large tilted beach umbrella surmounted it. Lighting came from a string of bulbs overhead. In performing, they used a neck microphone and a rather uncooperative amplification system. Peg's preparations included wetting his harmonica in a glass of water and his throat with mint gin. After dark, as the people began drifting by, he mounted the stage and began his act with a long and brilliant performance of "John Henry" guaranteed to draw a crowd. This led into a comic routine with the Chief. Eventually Chief Thundercloud hauled out a tattered but ferocious-looking stuffed rattlesnake and began his sales pitch for bottles of "Prairie King Liniment, " a rosy fluid concocted of turpentine, the oils of mustard, cloves and eucalyptus, pine oil, methyl salicylate, and kerosene. During the sales, the Chief handed bottles one at a time to Peg, who carried them into the crowd, swapping them for the dollar bills of the customers, singing out "So-o-o-ld, CHIEF!" at each sale. When the crowd would buy no more, Thundercloud packed away the remaining bottles, and Peg would go off behind some of the tents to be treated to drinks by his admirers.
The entire evening's performance--which lasted about 2 hours-- had a set structure. The men gave 2 shows, each with a different pack of songs and jokes and each stint followed by the sale of new products, such as "corn medicine" or "that famous, old-fashioned Indian vegetable compound" guaranteed to "loosen all the dirt, the grease, the grime, the filth and the corruption." Peg seemed to unify each of his routines by punctuating it with a different refrain: "Funny things happen in this world!" or "Made me so mad I could eat fried chicken!" or "Yes, I was BORN for hard luck!" Each act featured Peg in some bravura performance, such as his "John Henry" or "Fox Chase" or -- the climax of the evening--his dance imitating the convulsive flapping of an old "Dominicker" hen just killed for frying. This dance had several times been promised during the evening, and repeatedly called for by the audiences.
HIS REPERTORY. Jackson's travels and acquaintance with medicine-show groups put him much in contact with other black secular musicians, especially in the Southeast. His two closest friends among them were "Pink" Anderson and his boyhood chum Henry "Rufe" Johnson (see Flyright LP-505 and Trix 3304). Peg also knew Blind Boy Fuller, Blind Willie Walker, Brownie McGhee, and De Ford Bailey, and he played with Jesse Lawson, Jack Hemphill, Arthur "Slim" Thomas, McKinley Ellis, "Peg" Bates, and others. Many of these are best known as bluesmen, but Peg Leg Sam scarcely ever plays blues. The rarity of blues in his performances may represent his own musical preferences, but several other hypotheses seem equally plausible. He was accustomed to playing lighter and more diverse pieces for the medicine-show crowds. A harmonica player, moreover, as he alternates between vocal and instrumental phrases, falls more naturally into binary forms than into the 3-phrase tune structures encouraged by the chordal sequence in the blues guitar. In any case, Peg has a wide repertory. Some of his songs are black or white ballads ("John Henry" and "Froggie Went A-Courting"). Others are double-entendre pieces like "Greasy Greens." His "Back Door" he apparently picked up from recordings of the 1930s. "Hand Me Down" contains stanzas that must derive from Antebellum minstrel shows: "My old missus promised me,/ 'Son, when I die, I'm going to set you free.'/ Lived so long her head got bald./ God, and she got out of the notion of dying at all." (cf., BROWN COLLECTION, III, 502). His spoken routines and jokes were doubtless common stock in trade for medicine-show performers, an omnium gatherum of one-liners, crossfire repartee, slapstick routines, and recitations and toasts already of proven success in the minstrel show and vaudeville. Sam's medicine-show material, however, is only a fraction of his repertory of folk songs and tales. In the film he sings a snatch of a spiritual and parodies the chanted sermon--other such parodies and spirituals were woven into both his show routines and his other yarns. Off stage, he also on occasion recites toasts he would censor from his public performances, or breaks into animal tales like "Fox and Rabbit in the Well" (Aarne-Thompson Type K651).
ARTISTRY. Jackson himself seems most proud of his skill on the harmonica: "I've met a heap of good harp players, but they were scared of me when I came into town. I was a young fellow and could suck on a harp! I was playing two harps--one in my mouth and one in my nose." Other harp players could justifiably be scared of his tour-de-force "Fox Chase" (on both Flyright LP-505 and Trix 3302), performances probably unmatched on records. But Peg's incidental criticism of other musicians during a jam session at Chapel Hill in 1973 showed that he is also aware of his own superior sense of pitch and rhythm. And he is a master of vocal and instrumental tone color and phrasing. Jackson also shows great individuality and freedom in reworking older pieces. His "John Henry" (Flyright LP-507A) opens like a fairly stock version of the ballad, but the death of the hero gets lost amid intricate train imitations and demonstrations of Peg's ability to play the harmonica through his nose and without hands and to drop the instrument and catch it without losing a beat of the song. His two recordings of "Back Door" (Flyright 508B and Trix 3302) share few beyond their opening stanzas. Peg even stamps "Froggie Went A-Courting" with his signature in its final verses. Conversely, in his spoken narrative he makes an artistic performance of even accounts of his own experiences--establishing setting, mimicking voices, punctuating the accounts with his medicine-show refrains ("Funny things happen in this world!") and doubtless freely inventing grotesque episodes, as when he tells of scratching the old lady's nose with his claws when he left Buffalo.
THE FILMING. Some footage in this film is reproduced from a 1/2-inch videotape shot--under improvised arrangements--on the night of Saturday, September 16, 1972. Bruce Batin (then a UNC graduate student in Folklore) got word at the last minute from Kip Lornell (collecting blues on a NEH Youthgrant) and Pete Lowry that the medicine show would play at the Chatham County Fair in Pittsboro, N.C., and he hastily assembled an expedition. He and Ceci Conway (another UNC graduate student in Folklore) handled the video camera. They had the disadvantage of using equipment new to them, of having insufficient lighting, and of needing to keep out of the way of two performers working at their jobs. If this resulted in a less-than-perfect film, it had the advantage of capturing an audience that had eyes only for the two performers and of recording how the showmen played for their usual audience, a good-natured crowd composed mostly of rural black males. The remainder of the film was shot in 1975 during two trips to Union County, S.C. Both blacks and whites in the area were friendly and interested in the film project. The film team consisted of Tom Davenport as cameraman (he had seen Peg Leg Sam perform in two college-campus festivals but was not known to Peg) and of the UNC student crew: Kip Lornell, Mike Higgins, and Allen Tullos. Bruce Bastin was present on one of the trips. Some of the students had known Peg for several years, and all had heard him on numerous occasions, knew his recordings, and were quite familiar with his repertory. One served as soundman, while the others were asking Peg questions and responding to him. In part they controlled the situation by eliciting the best of his material. During the filming, however, Jackson's brothers Bill and Monroe and his friends and neighbors were also usually present, and they both spontaneously participated in the film and happily provided him a more natural audience. Peg was therefore playing most of the time both for the camera and for his friends. As an old trouper he grasped the problems of the film crew and would warn the Deacon not to step in front of the camera or make the audience keep quiet during a song so as not to spoil the recording.
Throughout the film, whether in natural or abnormal context, Peg is either running through his familiar routines or playfully dramatizing himself. The most "staged" scene -- his dance in the opening of the film -- was suggested to him. He liked, or at least went along with, the idea, trying it several different ways before the filming. He revealed himself a thorough professional, interested in possible effects. In contrast, the scene in which the Deacon and Peg spar when Peg offers liquor to the neighborhood girls was totally spontaneous, but both Peg and Deacon appear to be deliberately playing for the camera. The repartee reflects their actual attitudes, but at the same time also the playful roles they normally assume in their easy friendship (they are fishing buddies). The most complex situation was the performance in Whitehead's Store. Peg had often played there for nickles and dimes in the old days, but is little interested in doing so now that he has found a more appreciative (and generous) audience on the college campuses. He dressed up for the scene, with clean shirt, gold watch, and good hat, and while there he asserted his independence from direction by refusing a request to repeat a sequence when the film ran out. He was perhaps both pleased that local whites should see him being the star of a film and also determined to retain his dignity by being the master of the situation. A group of stylish black youths who entered the store showed great astonishment at the performance and were highly demonstrative. Peg's own friends were more subdued than usual--a fact which made his brother Monroe's unexpected dance at the end of the scene all the more surprising.
COMMENTARY. A camera lens turned upon Arthur Jackson probably alters his behavior less than it does that of most people. He is a professional comedian whose artistic lineage includes such 19th-century platform humorists as Samuel Clemens, Charles Farrar Brown, and Henry Wheeler Shaw, who invented and wore the personae of Mark Twain, Artemus Ward, and Josh Billings. Like them, Jackson carries his mask off stage, and he seldom (perhaps never before whites) completely emerges from his character Peg Leg Sam. His trade marks are his comic hats (ones outrageously battered, or too small, or polka dotted) and his peg leg. He exploits his leg not only in his stage name and his dance, but often in his jokes as well and even in a song like "Froggie Went A-Courting."
But the character Peg Leg Sam wears a number of shifting expressions. In stories and wise cracks Peg may poke fun at himself, exploiting the conventional Ugly Man humor familiar in Southern culture from pieces like Johnson J. Hooper's "A Night at the Ugly Man's." Some of Peg's stock in trade--his stage laugh, the jokes in which he describes himself as looking like the "monkey's pa" or others in which he is worsted when he acts uppity to a policeman--are survivals from the Jim Crow era. The anti-black implications of this humor made the white college students uncomfortable, but the rural black audiences at the Chatham County Fair or in the Jonesville neighborhood had no such qualms. The men accepted it for the burlesque humor it was and guffawed as much at these jokes as at ones aimed at the mother-in -law too tough for the Devil to burn or at one-liners like "Music killed my brother Bill--piano fell on 'im!"
Peg's humor, however, is not simply acquiescent and placatory. It also contains a marked undercurrent of hostility toward gentility and the settled order. His brother Bill thinks he inherited roving ways from his father, who had left home in Virginia at the age of 10 and had "been in the pen" before he wandered into Jonesville and won his wife over the strong objections of her respectable father. This grandfather--a powerfully built ex-slave--was highly ambitious after emancipation, but stingy, and contemptuous of less successful blacks. Sam, by contrast, has not only been a free spender but satirizes the social pillars-- the school teachers and preachers and judges and wives.
All his performances, in fact, reflect the context of his life--that of a restless and gifted black man who came of age in the closed society of the Jim Crow era and had to make his way from the age of nineteen with a physical handicap. Asked once if he would want to live his life over, he exclaimed, "I'd rather die the death of a lizard than go back over the way I lived!" But he added that another man with his hard luck would have sat by the road with his hat in his hand--but that he himself never gave up. Like Ralph Ellison's character Rinehart he lived by his wits and the creation of illusions. His humor and music, in short, were part livelihood, part convention, part self-revelation, part shield--and a considerable part art.
REFERENCES


LP RECORDINGS OF PEG LEG SAM (mail order from Roundup Records, Box 474, Somerville, Mass. 02144)

Flyright 505: "Carolina Country Blues," ed. Bruce Bastin (Bexhill-on-Sea, Sussex, 1973).
Flyright 507-508: "The Last Medicine Show," ed. Bruce Bastin (Bexhill-on-Sea, Sussex, 1973). [4 1.p. sides excerpted from the live performance recorded in 1972, with transcription and extensive notes]
Trix 3302: "Peg Leg Sam: Medicine Show Man," ed. Pete Lowry (New Paltz, N.Y., 1973).
Trix 3304: "Henry Johnson: The Union County Flash," ed. Pete Lowry (New Paltz, N.Y., 1973).
Blue Labor BL-105: "Peg Leg Sam: Going Train Blues," ed. Kent Cooper (Chicago, 1975).


FIELD TAPES

69 reels, Tom Davenport Collection, University of North Carolina Folk Music Archives, Chapel Hill, N.C.


BOOKS

Bastin, Bruce. CRYING FOR THE CAROLINES (London, 1971), esp. "Spartanburg"
Botkin, B.A. LAY MY BURDEN DOWN (Chicago, 1945).
Dorson, R.M. AMERICAN NEGRO FOLKTALES (Greenwich, Conn., 1967).
Kochman, Thomas, ed. RAPPIN' AND STYLIN' OUT: COMMUNICATION IN URBAN BLACK AMERICA (Urbana, 1972).
Rosenburg, Bruce A. THE ART OF THE AMERICAN FOLK PREACHER (New York, 1970).
Toll, Robert C. BLACKING UP: THE MINSTREL SHOW IN NINETEENTH CENTURY AMERICA (New York, 1974).
White, Newman I., ET AL., eds. THE FRANK C. BROWN COLLECTION OF NORTH CAROLINA FOLKLORE, Vol.III (Durham, N.C., 1952).
Work, John W. AMERICAN NEGRO SONGS AND SPIRITUALS (New York, 1940).


ARTICLES

Lornell, Kip. "Peg Pete & His Pals," LIVING BLUES, No.11 (Winter 1972-1973), 27-29.
Tullos, Allen E. "Born for Hard Luck," SOUTHERN EXPOSURE, 3 (Winter 1976), 40-45. [Introduction, with life story transcribed from interviews]

The published 16 page "Background, Transcription, and Commentary" for this video written by Daniel W. Patterson and Allen Tullos may be ordered under "Study Guides" on the Ordering Information page.